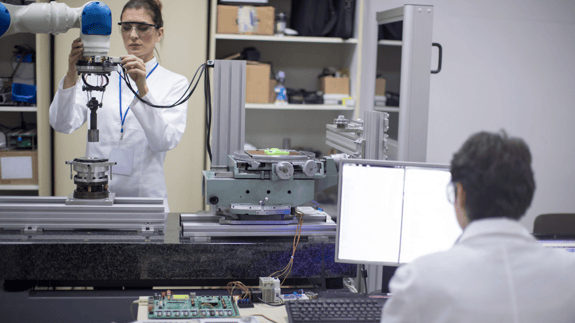 Research & Development
ZAPI GROUP invests heavily into the research and the development of advanced technologies as well as in their applications in its products. ZAPI GROUP aims to provide a steady product improvement through the application of the latest technology, in order to provide our customers with an advantageous position on the market, in terms of overall costs, efficiency, performance and reliability. The Research and Development department is the real heart and soul of ZAPI GROUP, the pride of a company which has made innovation its trademark.
Over the years, the great investment in research and development has borne its fruits: since the 1980's ZAPI GROUP has always been at the forefront of every technological revolution in the Material Handling Industry as well as in the hybridization and electrification of vehicles.
ZAPI GROUP's customers were among the first to introduce onto the market new technologies such as the AC Technology in the mid 90's, and its evolution to the Sensorless Induction Motor Control System in the following decade.
The most recent trends go towards the introduction of the PM Synchronous Motors, offering an Integrated Solution combining mechanical and electronic elements such as our recent EPS ACW integrated steering system and introducing the new safety solutions and architecture required by incoming Norms.
Through our understanding of the application and our technical expertise, ZAPI GROUP offers customers the following services:
Feasibility and project analysis for complete systems including controllers, electric motors and accessories.

Operational prototypes are developed quickly, thanks to advanced simulation tools.

A full complement of verification testing, including functional tests, thermal evaluations, mechanical shock and vibration testing, electromagnetic compatibility, HALT life cycle testing and IP protection verification.