This is a summary of the article that appeared in Machine Design Magazine on June 13, 2023.
Mirko Baggio, Director of Business Development, offers insights into the considerations necessary for original equipment manufacturers (OEMs) when moving a machine to electric drive. This includes battery selection, duty cycle determination, and voltage requirements.
This compilation of frequently asked questions (FAQs) presents a brief overview of the considerations necessary to design an electric machine.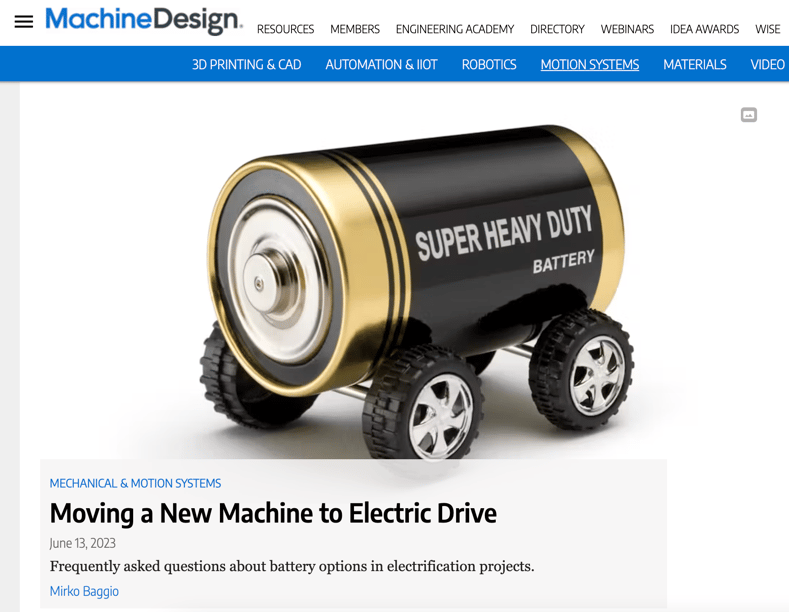 Baggio explains that OEMs must first review the entire vehicle architecture, including hydraulic function conversions in mechanical projects or redistributing component locations. Additionally, they must consider component sizing, including the battery, electric motor, power, and charging system. Determining the acceptable duty cycle is key to battery selection. OEMs must understand the energy required to lead to the most appropriate battery selection. The battery comprises up to 50% of the total machine cost, so making the proper selection is crucial to keeping a project within budget.
Designers usually begin planning the worst-case scenario duty cycle and then work backward to determine the best choice. If available, telematics data from traditional machines (engine and hydraulics) can be useful as it gives designers concrete figures to help calculate the duty cycle required. In the absence of telematics data, calculations should be done using the vehicle and application specifications. Data points such as weight, speed, max grade, auxiliaries, and field functions should be collected to create a working point matrix. This matrix can then be used to augment the worst-case duty cycle scenario and ensure that the OEM is not stuck with components that are too large or expensive for the machine, application, or end user.
Concept machines are an excellent option for testing an estimation matrix against real-time scenarios. These machines often have built-in logging frameworks, providing real-time data to the designers as the machine runs through different duty cycle scenarios. Experienced OEMs should have the capability to provide this type of testing. OEMs should be prepared to adjust performance expectations based on real-time test data.
Baggio explains that in the early days of vehicle electrification, batteries were much more cumbersome than they are today, which resulted in vehicles having to be designed around the battery size. Now, with more sizes available, the design and application usually take precedence. While many companies specialize in designing batteries, there are costs associated with customizing a battery for a particular application. From a consumer perspective, there is a common assumption that a higher voltage is better. However, this is not an ideal mindset for electrification projects, as it can lead an OEM to make inappropriate battery selections for their machine. Some applications may require a higher voltage, while others may benefit from a reduction in voltage size that is appropriate for its specific usage.
OEMs often aim for a voltage range below 60 volts. This range is considered safe by international standards, which aims to avoid system complications present in higher ranges. However, this range presents limitations from a power perspective, so it may not be suitable for all machines and applications. Another standard voltage threshold is 150 volts. OEMs that can stay below the 150-voltage range have a wider range of vehicle components at their disposal. Unfortunately, there is no one-size-fits-all answer for electrification, as timing varies from one OEM to the next. However, a good barometer for judging timing is to look at the amount of information available. If you have telematics data, your designers already have a head start. Without this data, you will need to budget more time at the beginning of the project before arriving at real-time testing. Investments such as the usage of third-party companies for system integrations can help to speed up the prototype and testing phases.
According to Baggio, OEMs must focus on the torque and speed requirements from the outset to set projects up for success and allow them to arrive at optimal electric designs. A robust requirement planning phase, combined with in-depth knowledge of the application, will set an electrification project on a successful path.
For more information, contact us.