With nearly half a million attendees, bauma 2022 was another resounding success. Over three thousand exhibitors from across the globe filled the Trade Fair Center Messe München in Germany, with 60 percent of exhibitors hailing from other countries. Running since 1954, bauma is considered the world's largest construction equipment trade show. ZAPI GROUP was pleased to participate in this year's event. The show provides an invaluable snapshot of both current and future industry trends. This year, one theme emerged strongly: The world demands more electrification, and OEMs are listening.
The search for alternative power methods to counter greenhouse gas (GHG) emissions continues to gain attention. As one of the larger GHG emitters historically, the construction industry feels the pressure of this alternative power search. Electrification consistently emerges as a viable alternative that can deliver the required power without the negative side-effect of harmful emissions. At bauma, many OEMs made a point to feature both electric and hybrid models in their displays.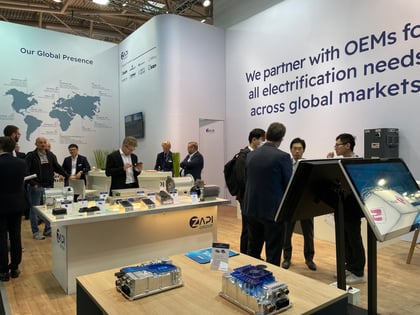 As bauma only occurs every three years, there is a unique opportunity to see significant changes in OEM models between exhibitions. The 2022 event boasted 80 - 90% of machine OEMs (large and small) with investments in an electric future with projects either planned or already in production. This shows a progression from the 2019 show where the majority of equipment displayed was still in a prototype phase. That being said, the larger OEMs have longer planning periods, sometimes taking up to three or four years from development to the start of production (SOP). Smaller OEMs can be more nimble, often cutting that timeline in half, allowing more flexibility for innovation. Based on current estimates, the tipping point for significant ramp-up is 2025 so the next several years are primed for exciting developments industry-wide.
For our own part, ZAPI GROUP has been part of the electrification movement since our founding in the 1970's so we are thrilled to see this direction unfolding. Keeping pace with the demands on an electric-forward industry, we shared our line of inverters/controllers, battery chargers, and charging solutions.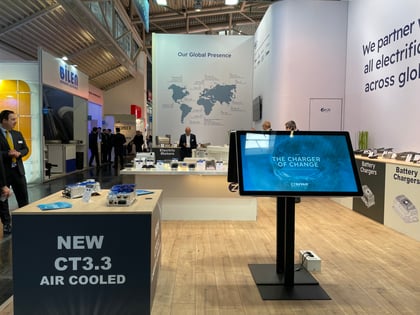 We were particularly proud to showcase the launch of Zivan's CT3.3 Compact Titan battery charger. This new charger, along with Delta-Q's range of stackable charging solutions, allow us to provide a full spectrum solution to OEM's coming from a variety of application needs and backgrounds. Our battery chargers are designed to withstand the rigors of the construction industry and streamline the transition for OEMs looking to electrify their equipment.
Also on display were samples of our Permanent Magnet Synchronous Motor/Generators (PMSM) and various inverters and controllers. One of the hurdles facing the construction industry's conversion to electrification is the assurance that electric components can deliver the power needed for heavy-duty applications. These motors are customizable to fit customer requirements, both for 100% electric and hybrid solutions. Along with cutting emissions, these motors also address another challenge for construction equipment - noise reduction. As urbanization rates continue to climb, regulations on noise levels are a more frequent occurrence in cities worldwide.
bauma gave our team of ZAPI GROUP companies (Zapi, Schabmueller, InMotion, Delta-Q Technologies, Zivan, BlueBotics, Best Motor, and ZTP) the opportunity to connect with OEMs directly on their needs. While working across time zones and great distances is one of our strengths, we were very grateful for the in-person connections made at bauma this year.
We look forward to seeing how the industry progresses over the next three years. If this year was any indication, we expect to see more construction equipment electrified on worksites around the world.